This is very cool.. Something that's been kinda buggin me about my iphone camera is that it just doesn't always take the best photos.  I mean, they're great photos.. and it's a "nice" camera.. but sometimes you just need a better lense, you know?
Well, check this out..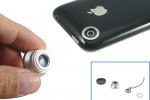 Lenses for your iphone!  Cool!
Magnetic zoom & fish-eye lenses for iPhone 3G – SlashGear.