This is going to be where the new shhLIFE website is located. At this point, I'm just working on the integration between the forum and the blog.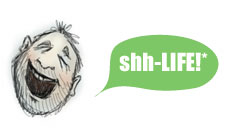 Right now, the templates are similar, but not the same.. that'll change as I have time to work on the site more. I also haven't copied over all the old content yet.. again, that'll happen as we keep going.
In the meantime, I'd be really happy to hear any comments/suggestions/problems/etc that you face!