— MONSTERS VS ALIENS : In Theaters March 27, 2009 —.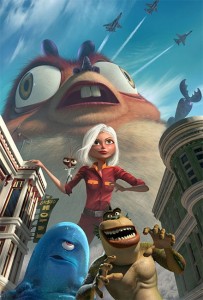 That's right.. Monsters vs Aliens starts today!
It's our first offical 3d project.. animated from the beginning in 3d, aware of stereo the whole darn time.  I was lucky enough to be on the pre-production team for the show.  I got to work closely with the Uber Head of Character Animation David Burgess, and the incredibly talented Supervising Animator Line Andersen for a good couple of months.
Most of the time I focused on B.O.B.. (rigged by the AMAZING Terran Boylan) helping figure out how his controls should work, doing animation tests, etc.. but I also did some pre-production animation of Susan, Dr. Cockroach, Link, the President, and a really fun generic man test.  Oh yeah, and the cable car.
It was a ton of fun working with the crew in LA.  The character tds were great (lead by the dynamic Duo.. Kevin Ochs and Kevin Rogers.)  I really wanted to make t-shirts for them that said "I'm with Kevin" and had arrows pointing to each other, but never got around to it.  D'oh!  I hope I get a chance to work with them again sometime.. good times all around!
Seen the movie twice now and it's a good fun flick.  The stereo is really cool, and I think is done in a way that pulls you into the picture and lets you really experience it nicely.  There are a couple of sequences that just blew my friggin mind when I saw them come together.. huge props to everyone in FX & lighting for those.. you know who you are.. well done, your kung-fu is mighty!
Go check it out.. worth the price of admission, in my opinion!