Testing Time-Management Strategies – WSJ.com.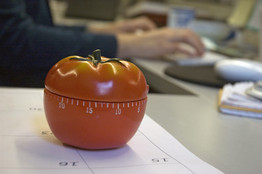 As most of you know, I've been spending the past year or so working on time management techniques, trying to figure out ways to keep creative, but still get work done quickly and efficiently.
In my new role, I find that I spend quite a bit of time juggling meetings, animating, giving notes, exploring ideas, family, and trying to find time to relax and work out.  It's not easy, and things can easily get dropped or fall behind.
I've explored a few ways of keeping track of things, and what I'm working with now is a somewhat modified GTD technique, or Getting Things Done for those of you who haven't heard of GTD before.  It's a pretty cool technique for managing time developed by David Allen.
It's working relatively well for me, but I still have yet to find a complete email/iphone/os X/linux workflow that I love with it.
I've also attempted the Pomodoro technique a few times, which I really like when I have a whole saturday to work straight ahead on 4 or 5 items.
The main thing that's keeping me on track is trying to keep my email inbox to 0.  My goal is to do it every day, but some days that's just impossible.  If I can't hit it every day, I try and make SURE I do it by the end of the week.
Anyway, the Wall Street Journal has put together an article talking about time management.. it's pretty interesting.  Check it out!