One of the things I've learned over the years is that it's important to share your ideas as much as possible.  That's how innovation happens.  It's how things progress.  It's how we learn.  I've never been afraid to put my own ideas out there because I know I'll get back more in return.
As soon as I released my DVDs on character rigging, I started seeing them pop up on warez & pirating sites.  People have been sharing them with friends, downloading them from various locations, burning dvds, etc.  While it directly takes away from my own pocket, there's nothing I can do to stop it so I don't stress about it.
I figure, as long as people are out there using this stuff, then it's a good thing.  If they really appreciate it, then maybe someday they'll send me a thank you email, or a postcard, or 10 bucks, or whatever.  Or they'll tell others to go buy my stuff.  Or they'll buy me a beer at siggraph.
Today I got an email from someone who actually created an automated way to create the "Animator Friendly Rigging" rig that I developed for the AFR series dvds.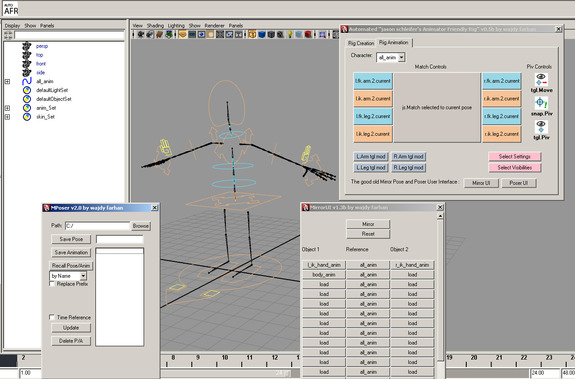 Automated "Animator Friendly Rigging" – Free Character Scripts / Plugins Downloads for Maya.
Some people would probably think that I'd be offended by this, or ask him to take it down.  After all, they're techniques I developed, right?  This stuff contains scripts that should really only be available through the DVD series.  It's my intelectual property he's messing with!
But I'm not, I'm actually quite stoked that he liked my stuff enough to spend the time to try and automate it.  It means that my ideas aren't nuts and that they're worth following.
My whole point of the DVDs wasn't to say "this is the be-all end-all of rigging technology", but to say "hey.. this is how I like to THINK about rigging.  You should, too!"
If you just download this script and create a rig with it.. yeah, you'll have a pretty sweet rig with lots of functionality.  But you won't have learned the point of the DVD, and that's how to THINK about rigging.
So, here's what I say.. download the tool.  Try it out.  See how you like the rig.  If you dig it, or at least intrigued by it.. then go purchase the DVD and see why certain choices were made.  Learn about the process, because in the end.. THAT's what you need to do to be a good character td.