Fast Animation Rigs / Integrating a Creature Rig
Jason Schleifer Rigging Bundle (Downloadable)
Download: $70.00 Pay What You Want!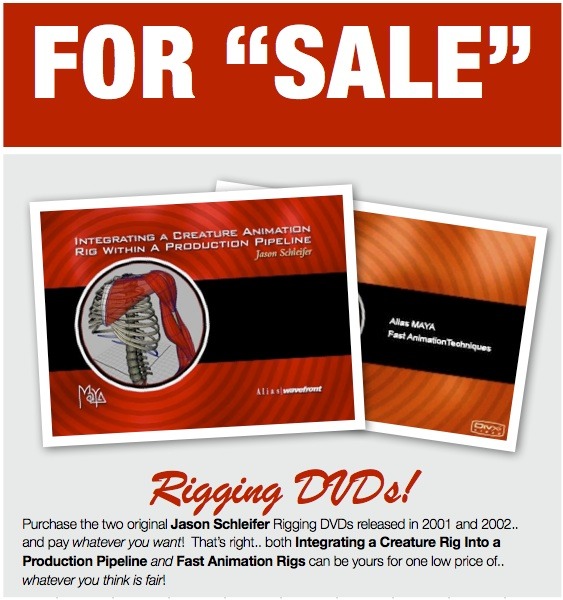 Fast Animation Rigs 
Fast Animation Rigs will teach you the skills you need to create fast and efficient character rigs for your production pipeline. This DVD will help you build rigs that balance functionality AND speed. Avoid the pitfalls of cumbersome rigs that slow down your process, while still permitting the level of control needed at the animation stage. Fast Animation Rigs will provide examples on building complete animation rigs, with a close eye at rapidity and efficiency. For use with Autodesk Maya.
Integrating a Creature Rig Within  a Production Pipeline 
Presented by Jason Schleifer, Animator/Creature Technical Director at Weta Digital, this material was taped during a Siggraph 2001 MasterClass Seminar. Advanced MEL knowledge is not necessary for understanding all of the material presented in this DVD, but is extremely beneficial for utilizing these concepts to their fullest potential. Included with the 90 minute DVD are approximately 80 pages of valuable notes in PDF format, MEL scripts and many useful tips, tricks, and examples. For Autodesk|Maya.
Animator Friendly Rigging
What is "rigging"?  How should I approach it?  What does the animator want?
This section discusses all these things, and dives into creating your first rig.. the bouncy ball!
Now that we have a good idea of what rigging is and how to systematically approach it, let's get started on what everyone wants to rig – a human!
This section is broken into two parts and discusses how to rig a character's torso and the head.
Continuing our discussion on Bipeds, we move on to the arms and the hands of the character.  Arms can be creatively challenging since they need to gesture and move naturally, as well as grab onto things and support the character's weight.
Broken into three parts, the first two sections cover forward and inverse kinematics, shoulder control, removing counter-animation, and more.  The third section delves into hand controls with simple yet powerful rigs.
Broken into two section, part 4 of the series finishes up the biped. The first section creates a intuitive and powerful leg system.  We also get into more of the animator-friendly aspects of setting up your rigs, such as matching, UI, and more.
You can also purchase the entire bundle with all the training materials at once!